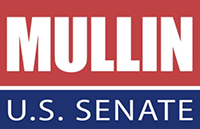 RELEASE: Oklahoma Fraternal Order of Police Endorses Markwayne Mullin for U.S. Senate
Oklahoma City, OK — Today, the Oklahoma State Fraternal Order of Police (OKFOP), composed of over 6,000 law enforcement officers, formally endorsed leading candidate Markwayne Mullin for the U.S. Senate. The Fraternal Order of Police is the largest organization of active duty and retired police officers in the world, with over 364,000 sworn members across the country.
"On behalf of over 6,000 members, the Oklahoma Fraternal Order of Police is proud to endorse Markwayne Mullin for U.S. Senate," the OKFOP said in a statement. "Markwayne is heavily favored in this race because he has always made public safety a top priority, he supports law enforcement across the state, and he has fought off those on the far-Left who want to 'defund' or 'abolish' the police. Markwayne is a champion for public safety and law enforcement, and he is the fighter we need to represent Oklahoma in Washington, D.C. Markwayne has always Backed the Blue, and we are proud to support him in his bid for the U.S. Senate."
"Our campaign is honored to be endorsed by the largest professional organization of law enforcement in the State of Oklahoma," said Markwayne Mullin. "As a strong supporter of law and order, I deeply appreciate the thousands of law enforcement heroes who sacrifice so much to serve our communities each and every day. While some pro-crime radicals want to eliminate law enforcement altogether, I will always stand in support of Oklahoma police — especially as rioting and attacks on law enforcement have increased across the country under the Biden regime. Right here in Oklahoma, we value and appreciate law enforcement, and I will always advocate for the rights and safety of our police. I am so grateful to the OKFOP for their strong support in this campaign, and look forward to continuing our partnership when we are elected to the U.S. Senate."
The Oklahoma Fraternal Order of Police is comprised of ninety-two lodges from cities, counties, and state agencies across the State of Oklahoma. The Oklahoma Fraternal Order of Police's over six thousand members make up a 100% member-driven organization. Members come from many different fields of public safety; from local police officers, deputy sheriffs, corrections officers, probation and parole Officers, OSBI agents, state troopers, and federal officers.
###