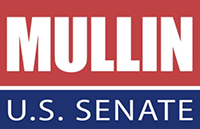 RELEASE: Governor Kevin Stitt Endorses Markwayne Mullin for U.S. Senate: "He'll be a fighter for all of us"
Oklahoma City, O.K. — At a press conference yesterday, Oklahoma Governor Kevin Stitt announced his endorsement of Markwayne Mullin to fill the unexpired term of retiring Senator Jim Inhofe.
"Markwayne is a fighter, an independent thinker, and most importantly – an Oklahoman thru and thru," said Governor Stitt. "As a successful business owner, Markwayne understands that the government must be limited and focused on preserving our freedoms and protecting America's independence. When he gets to the Senate, Markwayne will be a fighter for all of us. He's going to protect our way of life, and better yet, he will help us show the nation that Oklahoma is the best place to achieve the American dream, raise a family, and live a fulfilling life. I look forward to working with Markwayne as our next U.S. Senator."
"The most humbling thing about running for office is having people who are willing to put their name on the line for you," said Markwayne Mullin. "As a boy from Westville who struggled in school with a rough speech impediment, it's humbling to have someone like Governor Stitt endorse me for the U.S. Senate. It's an honor, and I don't take it lightly. The governor and I are true citizen legislators, and we see public office as an opportunity to give back to Oklahoma.
"I wake up every morning and say, 'love the people, love the call.' As your next Senator, I look forward to working alongside Governor Stitt to build a stronger Oklahoma and protect our way of life," Markwayne concluded.
Trump-endorsed candidate Markwayne Mullin has quickly earned the support of business leaders, families, first responders, and job creators throughout the state. He is heavily favored to win the U.S. Senate GOP runoff election on Tuesday, August 23rd, 2022.
###