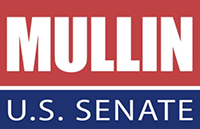 RELEASE: President Trump's National Security Advisor Robert O'Brien Endorses Markwayne Mullin for U.S. Senate
Tulsa, O.K. — Today, Robert O'Brien, former national security advisor to President Donald J. Trump endorsed leading candidate Markwayne Mullin for the U.S. Senate. O'Brien released the following comment on Monday:
"I enthusiastically endorse Markwayne Mullin for the U.S. Senate," said Robert O'Brien. "Like President Trump, Markwayne is a proven conservative fighter who views the safety and security of the United States as a top priority. Markwayne is the only candidate who understands the policies and resources needed to stop the devastating crisis at our Southern Border, confront the malign influence of the Chinese Communist Party, and implement President Trump's America First foreign policy objectives. Oklahoma, vote Markwayne Mullin on August 23rd!"
"I'm so grateful to have Robert's endorsement in this race," said Markwayne Mullin. "He is a decorated and highly-respected public servant and a true champion for our America First agenda. Robert and I agree that peace through strength is key to securing our nation at home and abroad, and we must elect leaders who will defend our country and our values."
Markwayne Mullin finished in first place in the June 28th Senate Primary with a commanding 26-point lead over his next opponent in the race to fill the unexpired term of retiring U.S. Senator Jim Inhofe. Mullin is endorsed by former President Donald J. Trump.
###