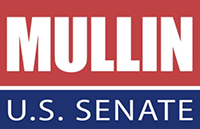 RELEASE: Oklahoma Farm Bureau Ag PAC Endorses Markwayne Mullin for U.S. Senate
Tulsa, O.K. — Today, the Oklahoma Farm Bureau Ag PAC, the state's largest general farm organization, endorsed leading candidate Markwayne Mullin for the U.S. Senate. Oklahoma Farm Bureau President Rodd Moesel released the following statement:
"On behalf of our 77 county Farm Bureaus, the Oklahoma Farm Bureau Ag PAC is proud to endorse Markwayne Mullin for the U.S. Senate," said Rodd Moesel. "As a lifelong farmer and rancher himself, Markwayne Mullin uniquely understands the needs and challenges facing Oklahoma farm and ranch families. Markwayne has a record of fighting for rural Oklahomans in Congress and we are confident that he is the best candidate to preserve our agricultural livelihoods, and our way of life."
"It's an honor to have the support of the Oklahoma Farm Bureau and the thousands of rural families they serve here in Oklahoma," said Markwayne Mullin. "As a proud rancher myself, I know that when Oklahoma farmers and ranchers do well, all Oklahomans succeed. I look forward to working with the Oklahoma Farm Bureau on a wide variety of issues, including tax cuts, expanding markets for our Oklahoma agricultural products, and ensuring access to high-quality broadband services. As your next Senator, I will always fight to secure a better future for the next generation of farmers, ranchers, and rural Oklahomans."
Trump-endorsed Senate candidate Markwayne Mullin finished in first place in the June 28th Senate Primary with a commanding 26-point lead over his next opponent in the race to fill the unexpired term of retiring U.S. Senator Jim Inhofe. He has advanced to an August 23rd runoff.
###