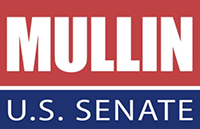 RELEASE: Tea Party Express Endorses Markwayne Mullin for U.S. Senate
Oklahoma City, O.K. —  Earlier today, leading U.S. Senate candidate Markwayne Mullin received an endorsement from Tea Party Express, the nation's largest grassroots Tea Party political action committee.
Tea Party Express Co-Founder and Chief Strategist Sal Russo said, "Representative Mullin is a fierce conservative fighter who isn't intimidated by status-quo liberal politicians who tax and spend our nation into oblivion. With skyrocketing inflation and crushing taxes, we need a fighter like Mullin who will take on Biden and the political establishment in Washington, D.C to restore American prosperity.
"As a successful owner of multiple small businesses, Mullin and his wife have created jobs for hundreds of Oklahomans throughout the state, and he knows what it takes to make a business run and succeed, which includes keeping the government out. Mullin lives on his family ranch in Oklahoma, and as a rancher, he understands the unique issues and concerns facing Oklahomans. Unlike out-of-touch politicians who forget their roots, Mullin lives and works in his community and has never forgotten where he came from.
"Throughout his term in Congress, Mullin has consistently voted to put the needs of Oklahomans first, and I'm confident he'll do the same in the Senate. Oklahoma needs a courageous Senator like Markwayne Mullin who will push back against the radical left and their dangerous policies. He has distinguished himself in the House with his 'can-do' attitude and willingness to work hard to find solutions to America's challenges.
"As a United States Senator, I know he will continue to champion our Tea Party principles of reducing the size of the government and stopping tax hikes and reckless spending. He is the best candidate to return our country to the Constitutional principles that make America great, and we are honored to offer our endorsement to Representative Markwayne Mullin for election to the United States Senate," Russo concluded.
The following are statements from local grassroots leaders:
"I support Markwayne Mullin for U.S. Senate because he is a real person. He surrounds himself with real people, including those with very different upbringings and opinions yet he treats them with respect and values their opinions. Markwayne is a rancher and a small business owner who truly represents the Oklahoma Standard, and we need more of that. As a politician, not only does he talk the talk…he walks the walk." – Kyletta Ray, Medicine Park
"Markwayne is a fighter and he doesn't back down. He has always fought for Oklahoma, and that is exactly the kind of person we need in the Senate. He isn't scared to lean into the fight, and embrace President Donald Trump's America First Agenda. Markwayne knows the importance of fighting against government expansion, and defeating the radical socialist democrats." – Kenneth Casey, Tulsa
"When Markwayne went to Afghanistan and rescued Americans it showed what a leader he really is. That was heroic. That's why I support Markwayne Mullin for the United States Senate. We need people who are willing to put action behind their words and Markwayne Mullin will do just that." – Jennifer Lambrecht, Norman
"Markwayne Mullin should be our next United States Senator. He is a proven conservative who has always championed our Oklahoma values. He has built successful companies across our state, and has been serving as a great citizen legislator. He understands that a limited government is a better government. I'm honored to support Markwayne in his bid to become our next U.S. Senator." – Dub Wagnon, Arnett
###